Welcome to the Peace Palace, the seat of The Hague Academy of International Law, an institution that is well known for the summer courses that it has given since 1923 to several thousand young international lawyers. As years have gone by, attendance here has become almost a rite of passage for any student of public or private international law, who can hardly feel fully-fledged without having spent some time at this temple of international law. The Academy's renown is due to the quality of its teachers, for whom an invitation to give a course is a mark of recognition of their eminence and fame. This renown is also due to the Academy's location in the immediate neighbourhood of the International Court of Justice and the Permanent Court of Arbitration, with which it maintains close ties.
During the months of July and August, over six hundred students of around a hundred nationalities bring these premises to life with enthusiasm and dynamism. Courses, seminars, lectures, visits and discussions on all subjects follow one another at an intense pace and, once evening comes, discussions continue in the city's cafés.
Later on in the summer, the Centre for Research opens its doors to around twenty young research students who, under the direction of two teachers, undertake advanced research work that is crowned by a publication, each year on a different legal topic.
This is followed by a specialised course for advanced students that currently deals with international criminal law, and finally, off site, the regional programme that takes place in an African, Asian or Latin American country, on the basis of a yearly rota.
Welcome also to The Hague, the world capital of international law. Today, the city is the seat of the new international courts and tribunals that have been added to their forerunners, the Permanent Court of Arbitration and then the Permanent Court of International Justice, which was later succeeded by the International Court of Justice. Several international organisations are also located here, and numerous institutes, foundations and  associations, operating in the various areas of international  law, have been created in The Hague in recent years.
Finally, welcome to the Netherlands, particularly to those who do not yet know this country, where the art of living has become a system, where peace and democracy are cardinal virtues, and where the architecture of the buildings and the wealth of the museums have extended until the present day the « Golden Age » of a nation whose traditions of hospitality and tolerance will be obvious for you.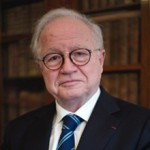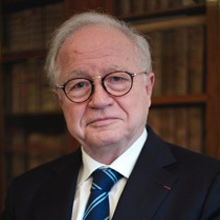 Yves Daudet
Emeritus Professor, Sorbonne School of Law
President of the Curatorium