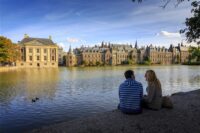 The Hague is a major city by the sea that has a lot to offer and will make your stay at the Academy more memorable. It can be considered as a student city with more than 30.000 students, as well as an international center. The Hague carries the title "International City of Peace and Justice". The presence of the Dutch King, international courts and tribunals (for instance the ICJ, the ICC and the STL), international organisations, embassies, and international companies provide the city with a truly international character and an extraordinary international reputation. This environment will allow you to expand your network, exchange and learn. You can experience plenty of cultural events as well as magnificent nature in and around The Hague.
In addition to that, The Hague is a compact city allowing to see everything within short distance. The long beach behind the dunes and its coast offer various attractions, such as a a Ferris wheel, bowling alley, Sealife and exciting festivals. After the lectures you can enjoy a stroll on the pier, walk along the boulevard of the harbor and relax at one of the many cafes and bars in the area. Why not also try out the good waves of the sea by some surfing? In addition to that, you can reload in your free time by going out, going shopping or visiting one of the many museums.
From The Hague, you can easily reach the towns of Leiden (famous for its university), Delft (birthplace of Hugo de Groot – Grotius – and Johannes Vermeer; famous for its pottery) and Rotterdam (museums, shopping, nightlife, modern architecture). From The Hague it's also only a 45 minute train ride to Amsterdam Central Station.
For a virtual reality experience of The Hague, visit https://denhaag.com/nl/vr.