2018 Advanced Course on International Criminal Law
On Monday, November 12th 2018, The Hague Academy of International Law opened the fourth session of its Advanced Course on International Criminal Law. This year the special focus was on the many challenges and opportunities deriving from the new information technologies and had as title, "International Criminal Law in an Age of Innovation: New Technologies and Changing Enforcement Strategies".
Professor Jean-Marc Thouvenin, Secretary-General of The Hague Academy, congratulated the many high level participants from all parts of the world choosing to follow this course, and underlined in his welcome speech that The Hague Academy is committed, since 1923, to offering the most updated courses on the most current issues. The second welcome speech by Carsten Stahn, Professor of International Criminal Law and Global Justice at Leiden University, underlined the core issues brought forth by the new technologies in information gathering as they apply to international criminal justice. The opening Keynote Address was delivered by the course's first special guest, the UN Special Rapporteur on the Promotion and Protection of the Right to Freedom of Opinion and Expression, Mr. David Kaye, Professor at the University of California, Irvine School of Law.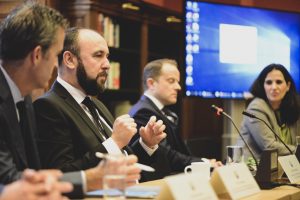 After a session of Q&A, the keynote was followed by a Panel Discussion on "New Technologies and International Criminal Justice: Opportunities, Threats and Challenges", which provided an initial overview of the legal questions to be addressed in the course, in particular if and how the new information technologies can be used in the context of criminal investigations and trials. This panel was conducted with the participation of Prof. David Kaye; Dr. Félim McMahon (Technology and Human Rights Program Director, Berkeley Human Rights Center), Ms. Cristina Ribeiro, (Investigation Coordinator at the International Criminal Court) and Mr. Nigel Povoas from the Special Tribunal for Lebanon.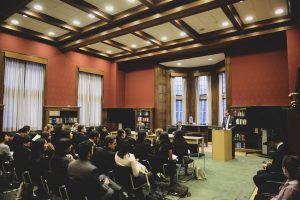 The morning was concluded with a further Q&A session with the participants of the programme. The rest of the week allowed the participants to acquire a good grasp of the subject, thanks to the interventions of additional panels of experts, professors and practitioners coming from a wide range of countries and perspectives. The participants also had, as always, the opportunity to meet and develop personal contacts, and join the illustrious ranks of Alumni of the Academy. The detailed programme of the session can be found by following this link.