Training program in international criminal law
The training programme in international criminal law, which started on January 23, 2023 at the invitation of the Université Félix-Houphouët-Boigny in Abidjan, Côte d'Ivoire, ended on January 27 with a beautiful ceremony to award participation certificates to nearly 200 students and professionals who are as passionate about international law as much as they enjoying following courses dedicated to this discipline. They will be able to continue to show their interest in international criminal law by participating next year, if they wish and if they meet the conditions, in the "Procès simulé devant la Cour pénale international" launched by the Academy in 2021 and whose second edition will take place in The Hague in April 2023 (registrations for this edition are closed). In the 2021-2022 edition, two African teams participated in the oral phase of the competition. In 2023, there will be three African teams.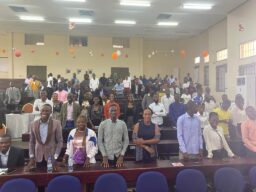 The courses of this intensive program were given by two specialists in the field, Professors Muriel Ubéda-Saillard and Julian Fernandez. It is thanks to the efforts made by all the partners of this program free of charge for students that it was a great success. Several Ivorian media outlets have reported on it.
In this regard, the Academy welcomes the substantial support offered by the French Embassy in the Netherlands, which has a front row seat to follow the activities of the International Criminal Court and is, therefore, very aware of the need for training in this important area of law. It was at its instigation and thanks to its financial support that the "Procès simulé devant la Cour pénale international" was launched (and successful) in 2021. It is also thanks to efforts of the French Ambassy that the Abidjan training could be financed. The French Ambassador to Côte d'Ivoire, Mr. Jean-Christophe Belliard, honored the closing ceremony of the program with his presence, for which we would like to warmly thank him. Our gratitude also goes to the liaison magistrate, Mr. Bernard Lavigne, for his valuable assistance and his interest in this training.
The Academy is very grateful to the host university, the Université Félix-Houphouët-Boigny d'Abidjan, for having made its resources and premises available for this program. Special thanks to President Ballo Zié, President of the University, to Dean Kassia Bi, Dean of the Faculty of Law, to Mrs. Diaby, Director of Cabinet, and to Dr. Kakou, for their commitment to the success of this project and their warm welcome to our lecturers.
Finally, and of course, the Academy thanks the Professors in charge of the program who spared no effort and time to offer the best of their teaching.